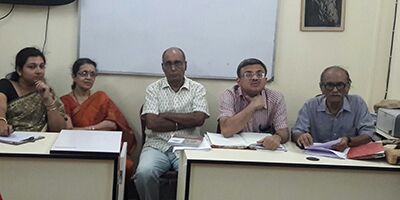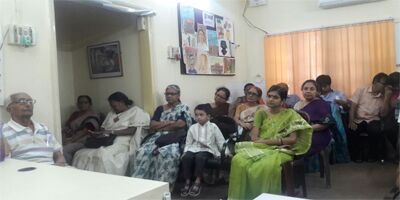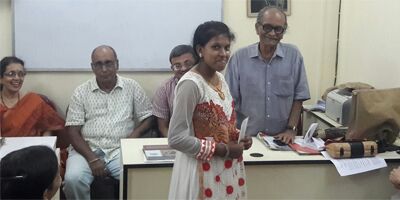 AGM of DANA was held on Sunday 25th June 2017. Secretary's Annual Report is presented
DIAGNOSTIC AND APPLIED NEURO-PSYCHOLOGICAL ASSOCIATION
(D A N A)
ANNUAL REPORT FOR THE YEAR 2016-201517
To be Presented in the Annual General Meeting of DANA in its Registered Office on 25th June 2017 at 12-00 Noon.
Diagnostic and Applied Neuro-psychological Association (DANA) is a registered non-profit organization which was established on February 10, 2000 by a group of Professional Mental Health Workers with a noble mission to render services to the community for promoting mental health status of the same. DANA continues its work as a registered NGO since 2002, though in fact it has completed seventeen years of its existence. At present, there are Total 27 Members i.e. (namely 14 General Members, 1 Honorary Member and12 Life Members) and 47 Associate Members.
The Executive Committee of DANA for 2016-2018 consists of Dr. Amal Kr. Mallick as President, Dr. Sheila Banerjee as Vice-President, Dr. Sayandip Ghosh as Secretary, Mrs. Pallabi Mukhopadhyay as Jt. Secretary, Mr. Pranab Kumar Moitra as Treasurer, Dr. Amit Chakraborty, Dr. Gautam Bandopadhyay, Mrs. Sutapa Chakraborty, Mrs. Bandana Mukherjee, Mrs. Ratna Mitra and Mrs. Rita Roy as Members. Mrs. Sutapa Chakraborty as Co-coordinator has helped towards smooth functioning of DANA since inception.
The Executive Committee Meetings were held on 26th June 2016, 20th November 2016, 16th January 2017, 19th March 2017.
Different Activities of DANA (April, 2014 to March 2015)
A – Clinical Services
The services offered by DANA can be accessed from the following statistics. The professionals of DANA were associated with:
(1) Registered New Clients ——- 1167
B – Educational Programme
Art Therapy
(a) On 10th April 2016, 4th annual seminar on the Scope of Art Therapy in the treatment of mental illness was held at Hotel Golden Park, Kolkata. The programme was inaugurated by Swami Tattwatitananda osw Ramkrisna Mission Institute of Culture, Golpark. Dr.Chittaranjan Andrade delivered a lecture on" Art, Creativity and Brain". Dr.Debasis Bhattacharya presented a lecture on "An overview of Art Therapy", Dr.Sayandip Ghosh spoke on "Art Therapy as an Adunctive Treatment for adult Psychiatric Patients", Professor Soumik Nandy Majumdar delivered a lecture on "Interpretation of Visual Language- looking through the eyes of children", Miss Trina Lahiri presented her work on " Art Therapy in Terminal Illness". The programme was co-ordinated by Dr. Sheila Banerjee.
A panel discussion was also held on "The Scope of Non-drug Therapy for Treatment of Mentally Ill Patients."Dr.Gautam Saha, Sri Hiran Mitra, Dr.Gautam Bandopadhyay were the speakers on the topic. Dr.Amit Chakraborty was the moderator of the whole programme.
C- Public Awareness Programme
1. A Mental Health Fair was organized by DANA on 1st and 2nd October 2016 to commemorate Mental Health Week and Mental Health Day. Several NGOs working in the field of mental health participated in the 2 day long function. The following NGOs participated:
Pavlov Institute, Manob Sangbed, Girindrasekhar Clinic and DANA
Seminars on issues relating to mental health were also held on this ocassion
On 1st October Dr Gautam Banerjee, Dr Gautam Bandopadhyay, Mr. Sanjit Sengupta, Mr Tarun Dutta participated in a discussion titled" First Aid in Mental Health", which was the theme of Mental Health Week, 2016. This discussion was moderated by Dr Sayandip Ghosh.
On the next day (2nd October 2016) the topic was " Ways of Staying Happy" and the speakers were Dr Debashis Bhattacharya, Dr Amit Chakraborty, Dr Sheila Banerjee and Mr Mohit Ranadip. The programme was moderated by Mrs Bandana Mukherjee.
2. An orientation programme on "Parenting and Child Guidance" was held on 11th December 2016 at DANA premises. The speakers were Dr Amit Chakraborty and Dr Gautam Bandopadhyay. A panel discussion was also held in which Dr. Sheila Banerjee, Mr. Mohit Ranadip and Mrs Bandana Mukherjee participated. The programme was moderated by Dr Sayandip Ghosh.
3. Sreerampur Union Institution invited DANA to deliver a lecture and conduct an interactive session with parents and students on 29th January 2017 regarding Problems of Adolescence & their remedy.The speakers were Dr Amal Kumar Mallick, Dr Amit Chakraborty & Dr Gautam Bandopadhyay. The programme wasmoderated by Mrs Ratna Mitra.
4. The 2nd orientation programme on "Developmental aspects and problems of Adolescence" was held on 12th February 2017 at DANA premises. The speakers were Dr Amal Kumar Mallick, Mrs Rita Roy, Dr Sayandip Ghosh and Dr Gautam Bandopadhyay. A panel discussion was also held which was moderated and co-ordinated by Dr Amit Chakraborty.
5. DANA participated actively in the Kolkata Book Fair 2016. All books of DANA were exhibited at the Stalls of Shabdohorin .
C – Cultural Activities
(a) On 7th May, 2016 DANA organized Rabindra Jayanti at its premises. All members and guests actively participated in the programme.
(b) On 16th October, 2016` Bijoya Sammilani (Ichchhapuron) was hosted by Mrs Rina Guha at Astor Hotel.
(c) On 19th March 2017 the members of DANA gathered at the residence of Dr Amit Chakraborty after Doljatra for an informal get together.
D – Computerization
E-billing and E- management of data related to all registered clients of DANA has been continuing over the last three financial years and is
Dr.Sayandip Ghosh
(Secretary)